Top Pros and Cons of Starting a DIY Blog
DIY blogs have mushroomed all over the internet thanks to an increasing number of people who prefer the art of "doing it yourself" instead of buying something premade. 
You see, creating something from scratch is enjoyable. Besides, one gets a sense of joy after completing their project.
However, not everyone is gifted enough to know how to start and finish a project they've never worked on before without guidance. That is why DIY blogs are important.
The thing is, DIY is here to stay, and that is why you cannot go wrong with starting your DIY blog.
Still, it will help to have a specific niche in mind when it comes to DIY instead of being a general DIY blogger. With the right methods, you will have a successful blog up and running in no time. 
Topics to Be Discussed on DIY Blogs

Because of the nature of DIY, you can never run out of topics that you can cover when it comes to these kinds of projects. The issues you'll cover will also depend on the DIY niche you've chosen. However, as a general rule, these are some of the topics you should highlight in your blog.
Where to purchase affordable tools for a DIY project.
Easy to start DIY projects
Helpful YouTube channels on your DIY niche
Write a blog on other helpful DIY bloggers in your niche
Write a blog on social media pages your audiences should follow
Create a beginner's guide to making a popular DIY product in your niche
Share your favorite DIY books
Write a Q&A post on the most asked questions you receive from your followers.
Write about a DIY trend and share your experience
Share pictures of your craft space or room
Pros of DIY Blogs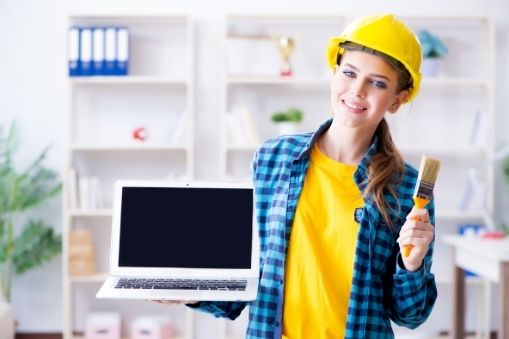 If you're still on the fence about starting a DIY blog, then below are some pros that may help change your mind.
You'll Help Your Audience Save Money
This is by far one of the major reasons why DIY blogs are popular. The idea is to help your readers save money by showing them how to tackle projects. Think of it as a way of encouraging them to learn how to do stuff themselves instead of hiring a professional.
You'll Help Your Readers Learn Valuable Skills
Your audience can never go wrong with learning how to do something new. For instance, even though a person lives in a new or recently refurbished house, something tends to go wrong at some point. Teaching them how to fix a leaky faucet, for instance,  means they won't have to scramble for the plumber's number in the future.
You'll Help Reduce the Time Your Audience Spends on Screens
It's not a secret that we spend far more of our valuable time staring at our phone or television screens. Staring numbly at a screen does not engage your brain, but working on a project using your hands does.
By choosing to work on a DIY project, you can help your readers cut down the amount of time they spend watching the television or staring at their phones -and that's healthy.
You Can Earn Money
With the right tips and tricks, your blog is capable of growing in a short period. Over time, you will attract hundreds to thousands of readers per month, and this is a money-making opportunity.
You can monetize your blog by partnering with companies to do reviews or promotions.
With an advertisement program, you can earn every time someone views or clicks on an ad on your blog.
Cons of DIY Blogs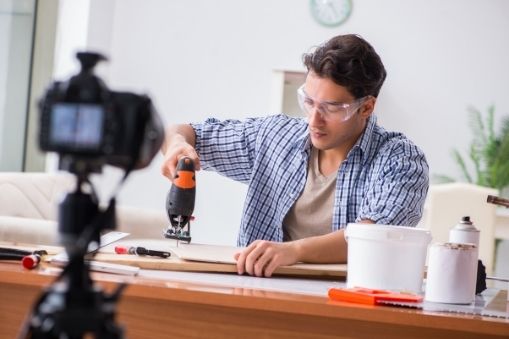 Here's a rundown of the downsides of starting a DIY blog.
You Have to Be Thorough
Unlike other blogs that can get away with a few blocks of text, some photos, and an occasional video, a DIY blog has to provide accurate information. It is hard to explain a craft to someone without using images or a video to demonstrate each stage of the process.
The only way to overcome this con is to push do intensive research. Having a DIY blog requires planning and passion, without which you won't have much success.
It Is Time Consuming
You will need to dedicate a couple of hours every week to your DIY posts. This also depends on whatever project you may be working on at the moment. It is tedious to set up, take pictures of each step, edit, and post.
Even though it is time-consuming, you can dedicate specific time each week to create and post on your blog. Being consistent will make you disciplined, which will become a part of your routine.
Unavailability of Craft Materials
Depending on how quickly your DIY blog grows, you may have followers from all over the world. The challenge with this is that sometimes you may suggest craft materials that may not be locally available to certain parts of the world. This may pose a challenge to your followers living in those areas who may want to try your DIY crafts.
Conclusion
There are so many reasons you would want to invest in a DIY blog. As stated, more people are choosing to learn how to make stuff themselves instead of hiring a professional or buying a ready-made item. 
The fact is, someone is searching for a blog that can teach him or her how to make something at any given point. This is an excellent opportunity to showcase your skill and earn some money while you're at it.  
If you are passionate about a craft and know that you can share your tips and tricks, don't hesitate to start your DIY blog.
---
Related Posts