Starting a Pet Blog: Top Pros and Cons
If you are a pet parent to a pooch, you'll feel inspired to start a blog about sharing your experiences with your furry companion.
Reach out to millions of people across the globe who share the same interest. Establish your footprint in your chosen niche, educate people about your passion, and discover things that you don't know from the adventures of other people with Fido.
With interesting stories, your readers will gain value from your blogs increasing your followers. From the audience, you'll earn the respect and admiration of new friends, colleagues, and business contacts. A good number of site visits will earn you a reputation as an authority in your field.
The good marks as a blogger will serve as a business card to a window of opportunities. Some people might have found something valuable in your blog that earned you a ticket as a resource speaker in a webinar. Or an offer for a paid writing gig for other websites, magazines, and other platforms.
What Content to create?
If you want your readers to be engaged with your writing but don't know how keep your cursor busy and start looking at popular pet blogs. This is where pet parents, animal lovers, usually hangout reading articles about their lovelies. Check the tone of the writing, the topics that they cover, and the looks of their landing page. Explore these blog sites to get inspiration on how they do it: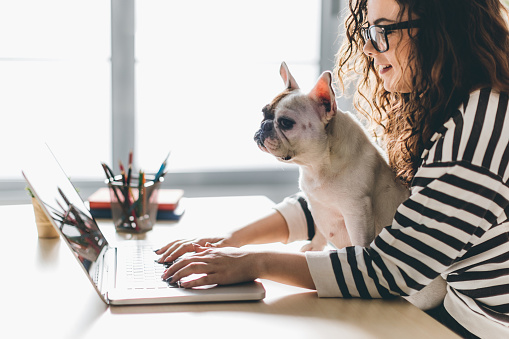 A picture is worth a thousand words, but when they see tail-waggers in their unguarded moments, it's worth more. You just have to put a few words to describe the photos and let the reader work his mind to come up with the rest.
Some pet bloggers use videos to show the funny antics along with the audio to create drama.
Product reviews interest pet lovers as well as how-to guides or tips to help them through a situation.
Don't be afraid to present your views, who knows this might be something unique and helpful that readers are waiting for. You'll receive all sorts of criticism, there's no problem with the positive ones, be ready to be bashed and take it as an opportunity for improvement.
Remember, your aim is to create an engagement. Your readers should be curious enough to get answers or solutions to their concerns from the opinion that you provide.
Pros of Pet Blogging
Like anything else, you'll find rough sailing when you start a pet blog. But when you have adjusted and see the number of site visits, you'll feel accomplished and enjoy the rewards.
A low-cost investment
Pursue your passion
By pursuing your passion, you are sharing your thoughts and insights, you are educating fellow pet parents. People appreciate this and they return the favor by becoming regular followers and invite others to visit your site.
By writing informative posts you can build a reputation as an expert in your field. Who knows, a side hustle might turn to be a full-time gig, benefit from something you love doing.
A better writer
Practice makes perfect, by writing pages after pages every day as a pet blogger you are doing that. The more information your share, the more you write, you gain more experience to become a better writer.
When you're not writing you're probably watching pet videos, listening to podcasts, or probably exploring pet topics. Your motivation to learn more makes you write smarter.
Work anytime you want
You are on a flexi-time schedule, work any time of the day or night. Except in cases of paid writing gigs or a self-imposed deadline.
Earn money
When your blog is frequently visited there are many ways to earn money.
Ads posted on your site.
A commission earned when someone buys a product you mentioned.
When you're paid by a company to promote their brand.
Sell your own brand like e-books, courses, t-shirts, personal training, freelance writing, and social media services.
Your readers are your bosses
You must pay attention to the reaction of your readers, any remarks or suggestions are valuable inputs for your blog. The information from their comments on posts, tweets, and any social media platforms will determine the content to develop that will interest them the most.
Earn your readers' trust
Trust can only be earned it cannot be bought. By posting honest and reliable blogs you earn the trust and confidence of your audience. With their trust, it will be easier to achieve your goals.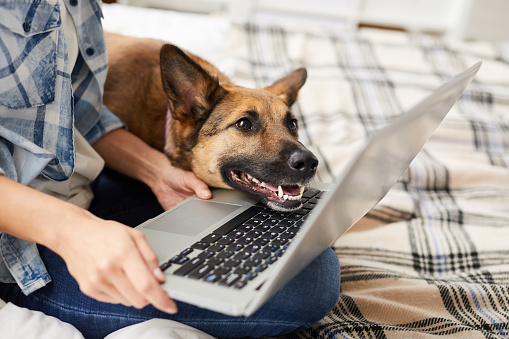 Cons of Pet Blogging
Of course, there are humps and bumps along the way a blogger needs tons of patience and diligence to succeed in the pet blogging space.
It's time-consuming
Today's posts start with 800 words up to 1,300 from the previous 300 words practice. Longer content please the reader and more likely to rank in SEO.
To help manage time devise a blogging schedule. Be sure that there be any disruptions, a period where you can write continuously.
By organizing your work, you can maximize productivity. Gather photos in one day, prepare the write-ups on a different day and edit on another day.
Procrastination
Since you're at home writing takes a back seat in favor of a snack, laundry chore, watching LeBron do his thing, and more excuses.
This is dangerous you should have the willpower if you want your blog to grow.
Haters everywhere
You won't satisfy everybody, expect some haters along the way. You have to live with it'll make your journey easier.
---
Related Posts